6 March 2023
"Art and Building": Claudia Linzel talked with Johann Moser, BWM Architekten, about his journey toward architecture and exhibition design. Click here for the podcast.
Parlamentsbibliothek
Aufsässiges Land
Visitor's centre at the Vienna State Opera
Papyrus Museum
Higher Powers.
Museum for Austrian Literature
House of Austrian History (hdgö)
Vergilius Chapel / Wien Museum

1 March 2023
Johann Moser spoke with Claudia Linzel as part of her podcast "Die Leichtigkeit der Kunst"" about magic hands, walls falling from the sky and a great technical theater ... From 3rd March on all channels!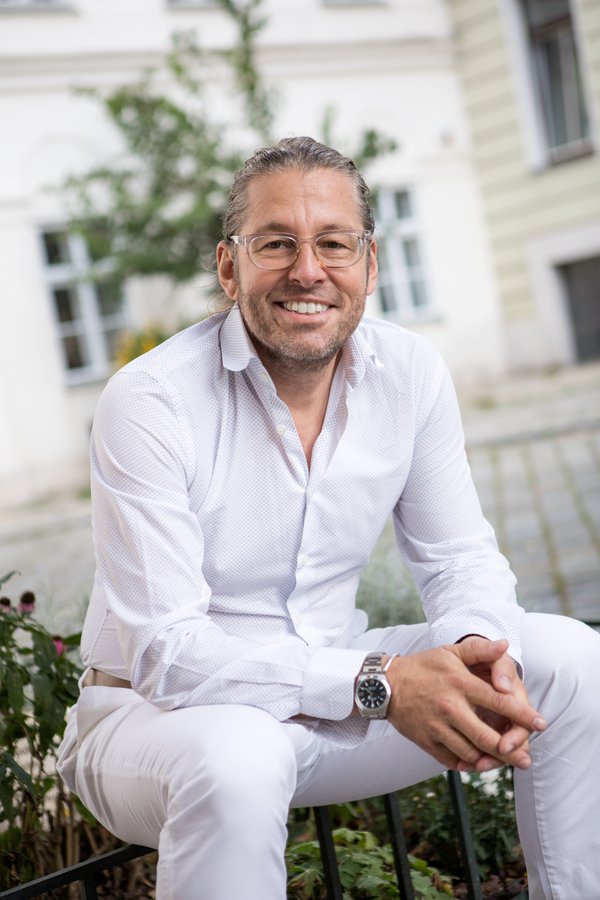 Beim Projekt der alten Reichsbrücke wurde der Blick auf den Dom durch die Pylonen der Kettenbrücke wie ein Bild gerahmt und gemäß der Ideologie des Ständestaates zum identitätsstiftenden Symbol für Österreich.
Erich Bernard

23 January 2023
With the renovation und extension of the Austrian Parliament Building the Parliamentary Library and Archives have been repositioned. A guided exhibition tour by ÖGFA (Austrian Society for Architecture) through the old/new Parliamentary Library with Holger Böck (head of the Parliamentary Library), Johann Moser (BWM Architekten) and Gabriele Kaiser (curator). For further information and registration click here.
Parlamentsbibliothek

10 January 2023
On 2 February the Überbau Akademie invites to the OnStage seminary at magdas Hotel entitled "refurbish, reuse, upcycle" with lectures by Johann Moser (BWM Architekten), Gabriela Sonnleitner (magdas Hotel), Carmen Tomasch-Schmidinger (Caritas) and Matthias Maier (Porr Bau GmbH). For further information and registration click here.
magdas HOTEL Vienna City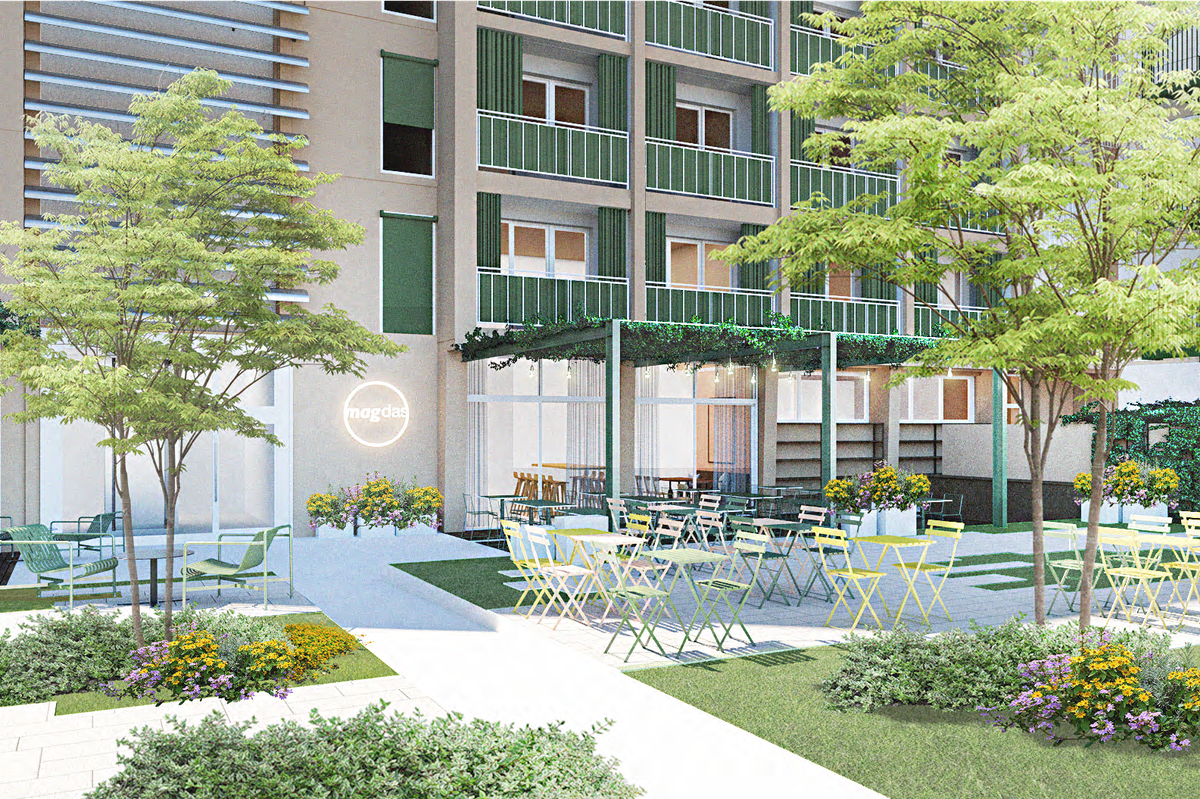 17 October 2022
On Sunday 16 October magdas LOKAL started with a soft launch and from now on you can have breakfast, lunch, cake & coffee as well as dinner there. From 21 October rooms can also be booked at the new magdas HOTEL Vienna City. Book now and have a look!
magdas HOTEL Vienna City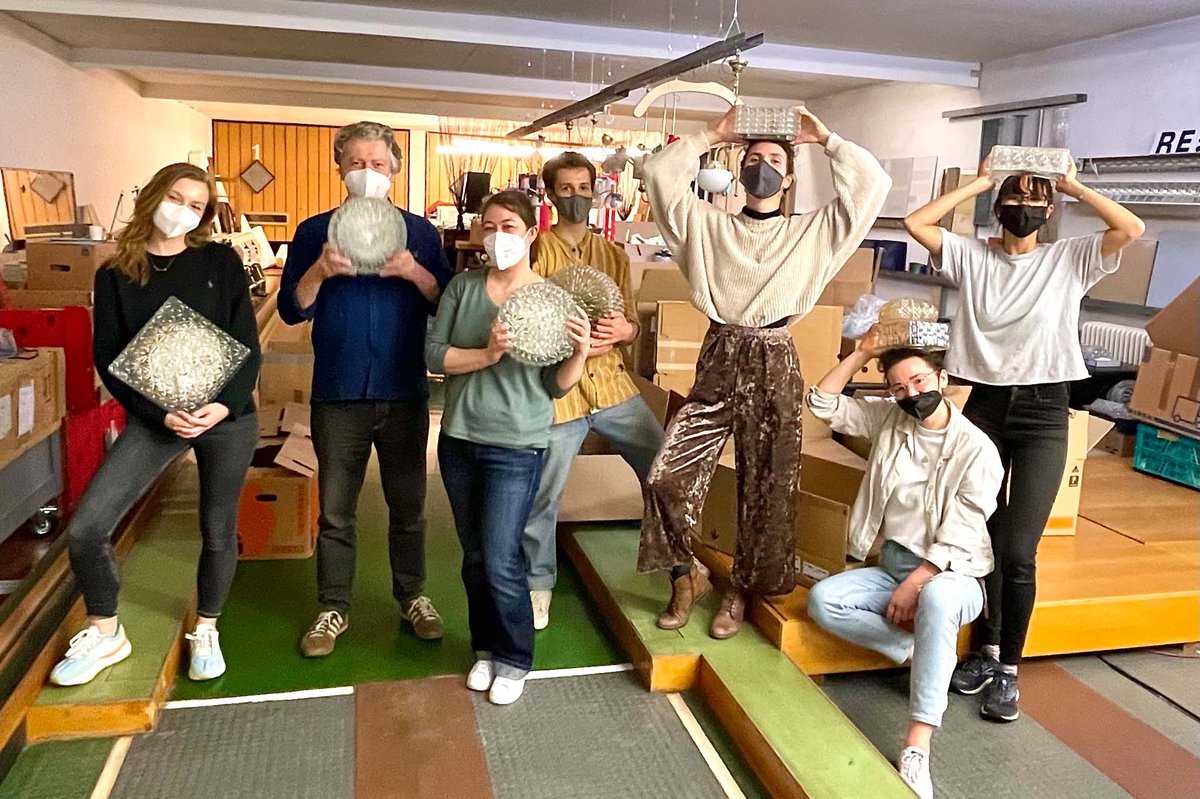 5 April 2022
The magdas hotel team met at the materialnomaden in Vienna to clean and refurbish 60 old lamps. For those who want to help out, there are plenty of opportunities under Caritas wir.helfen.shop. In May pillows, among other things, will be made out of denim materials for magdas hotel.
magdas HOTEL Vienna City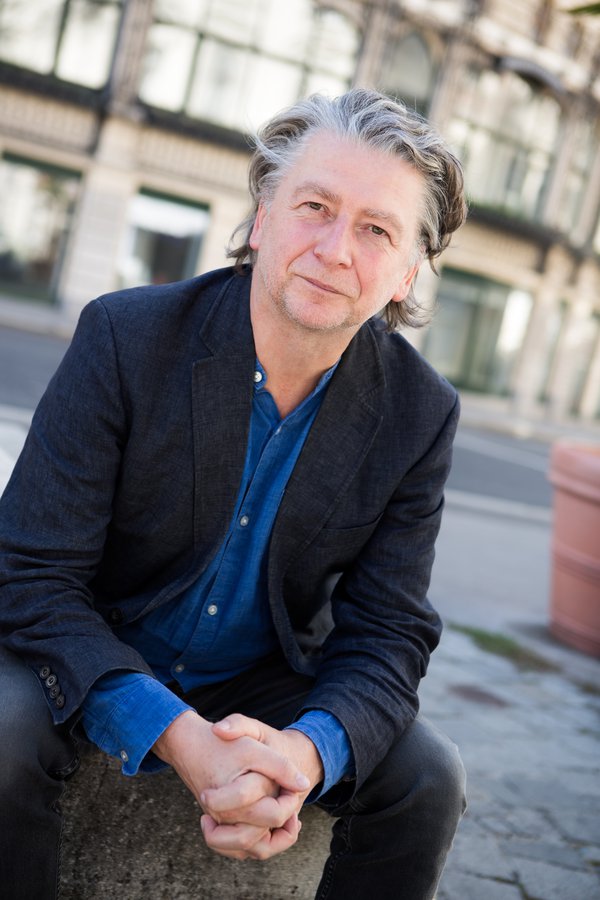 We offer a wide spectrum of functions. Whether we are called on to create a concept or design, or to be a discussion partner in matters relating to content or conveying ideas, we can cater to all manner of customer needs.
Johann Moser

The Shape of Time

7 March 2022
To celebrate this year's Women's Day on 8 March free entrance and current key topics, guided tours and key talks have been offered by the House of Austrian History focusing on determined women such as Alma Rosé, a violine virtuoso of the 1930s who directed the female orchestra in Auschwitz …
House of Austrian History (hdgö)
Alma Rosé Plateau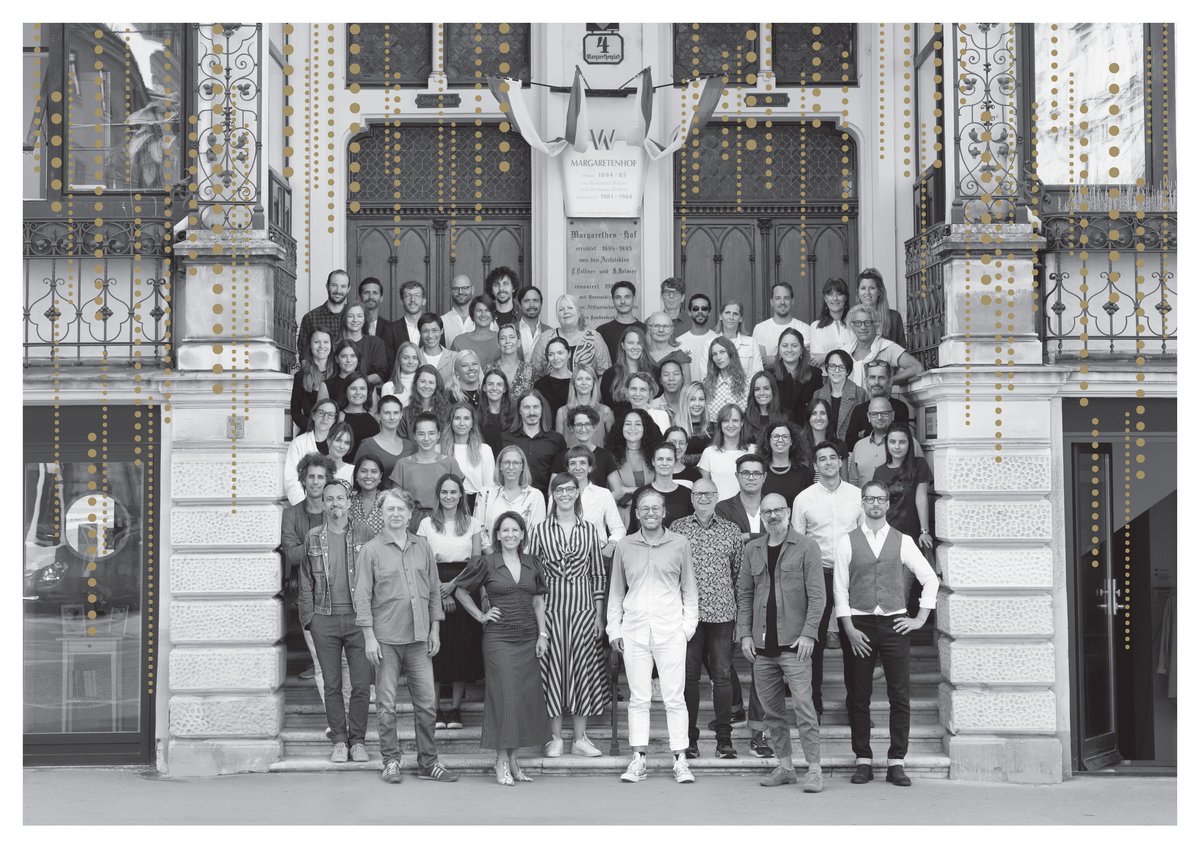 21 December 2021
BWM Architekten wishes you relaxing holidays and a good start into 2022! Our office will be closed from 21 December to 9 January; we will be there for you again on 10 January.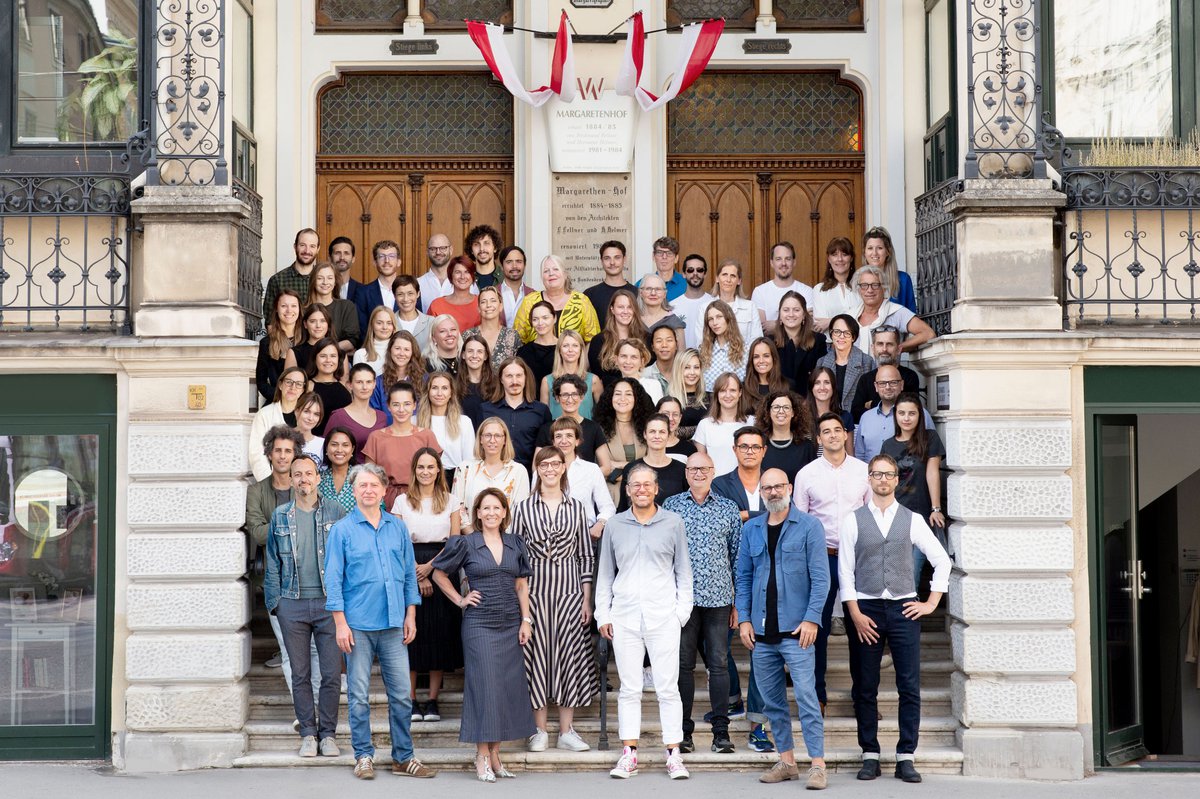 24 November 2021
The final result of this year's team photoshoot – thanks to the whole team, thanks to our photographer Renée del Missier!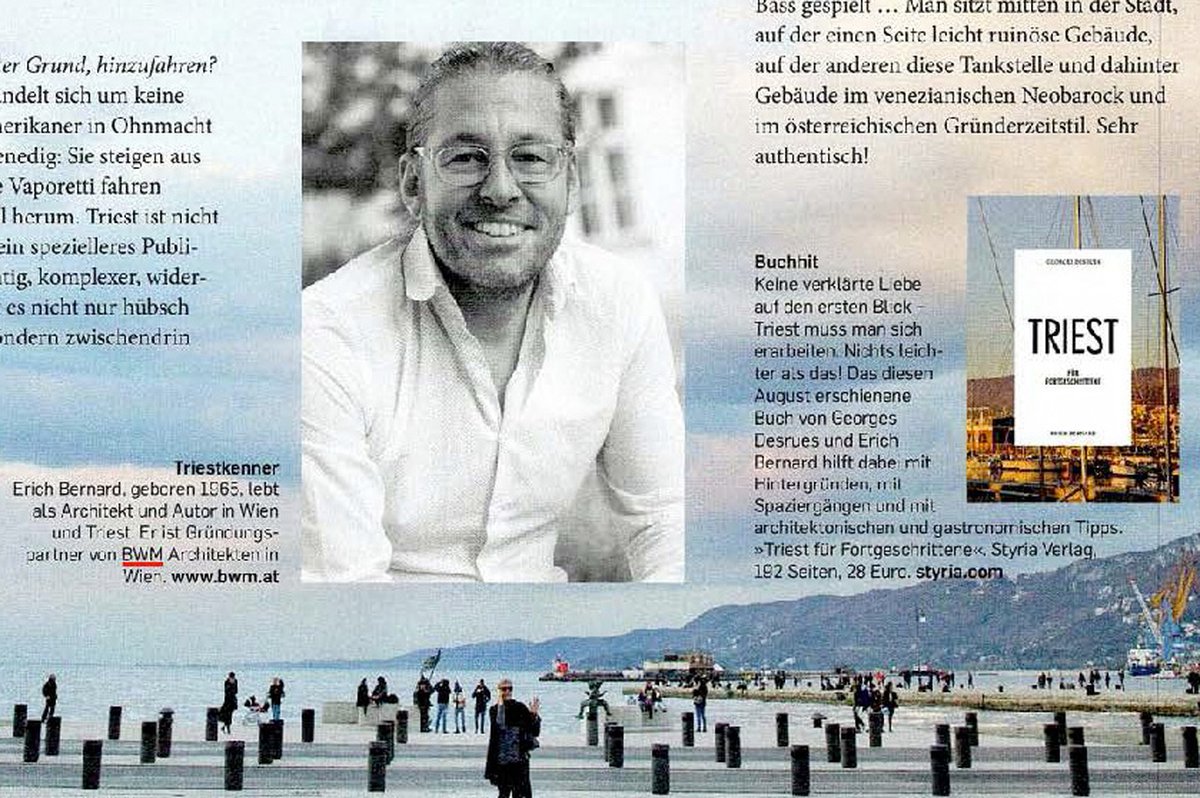 8 November 2021
Erich Bernard was interviewed about his book "Triest für Fortgeschrittene" in the current edition of Falstaff Living Residences. Read more here!
Triest für Fortgeschrittene