Roof construction Bellariastraße, Vienna

A terrace becomes a conservatory.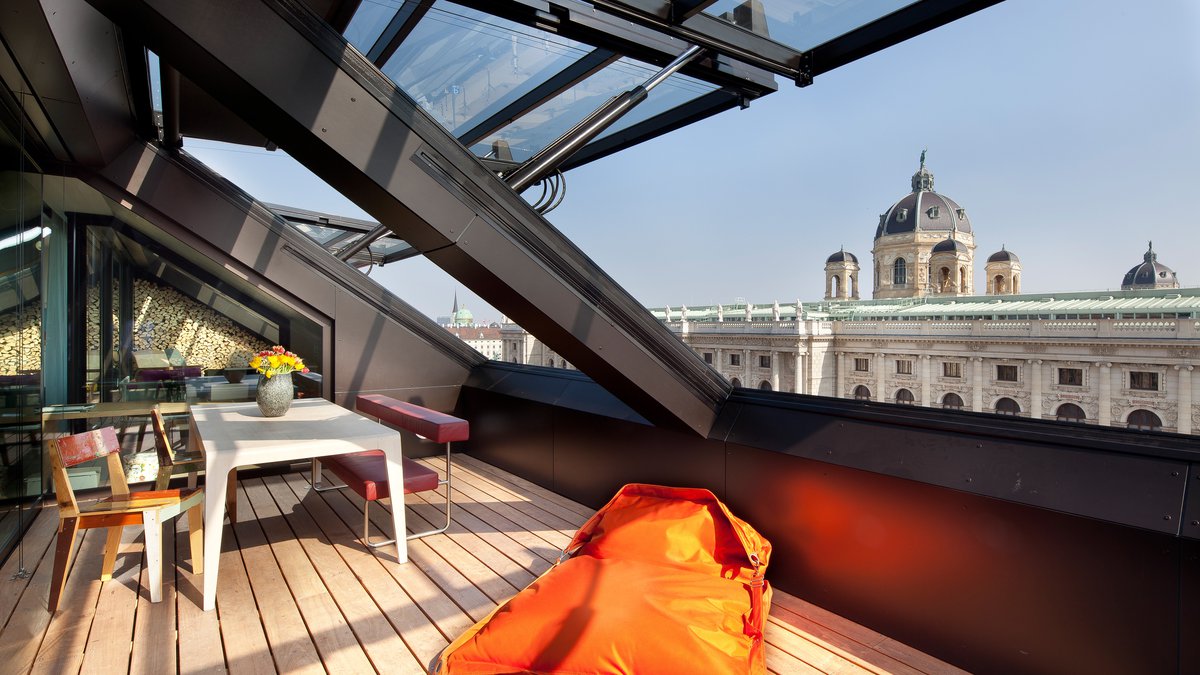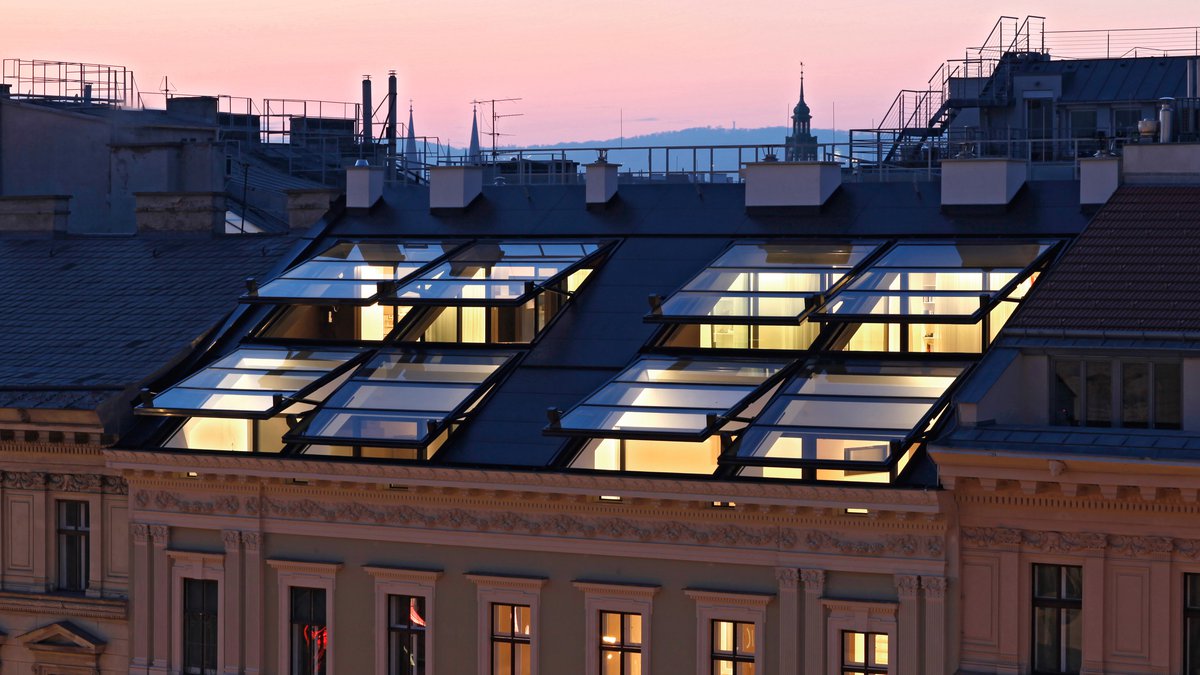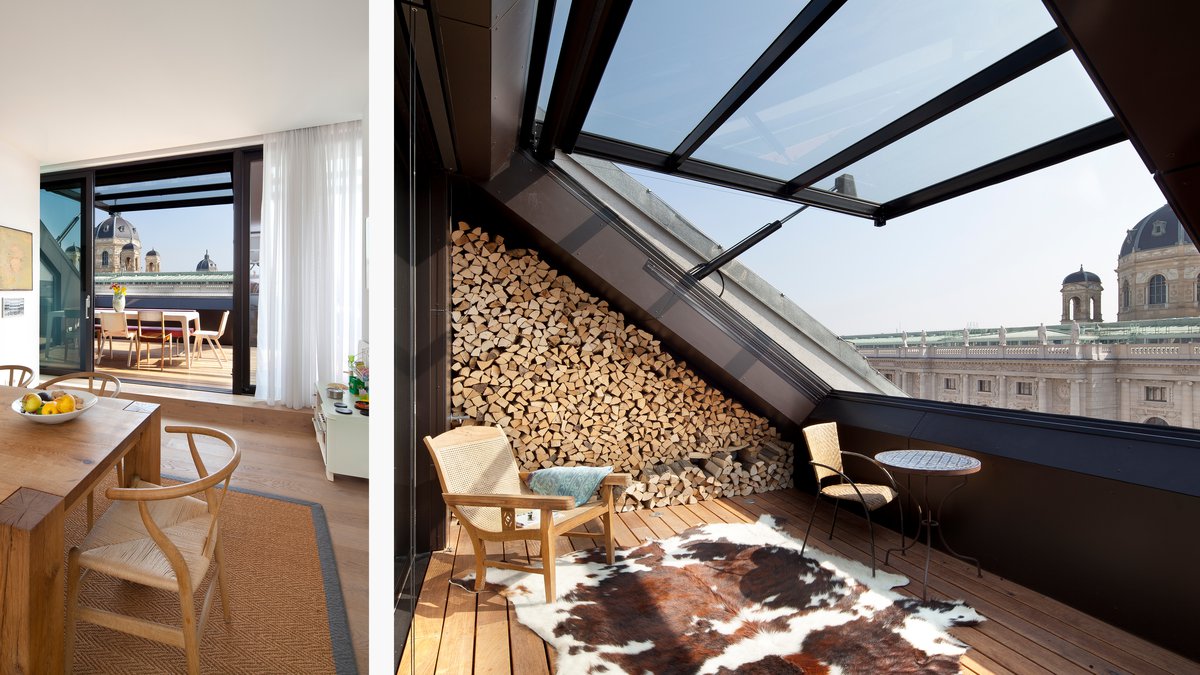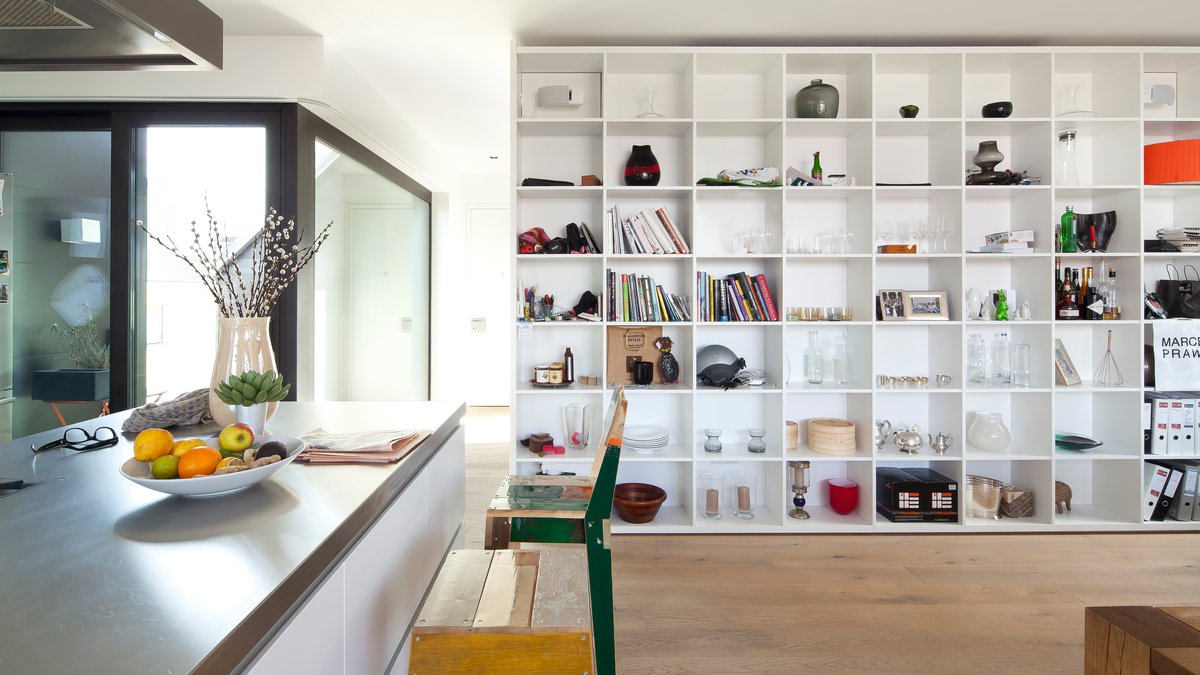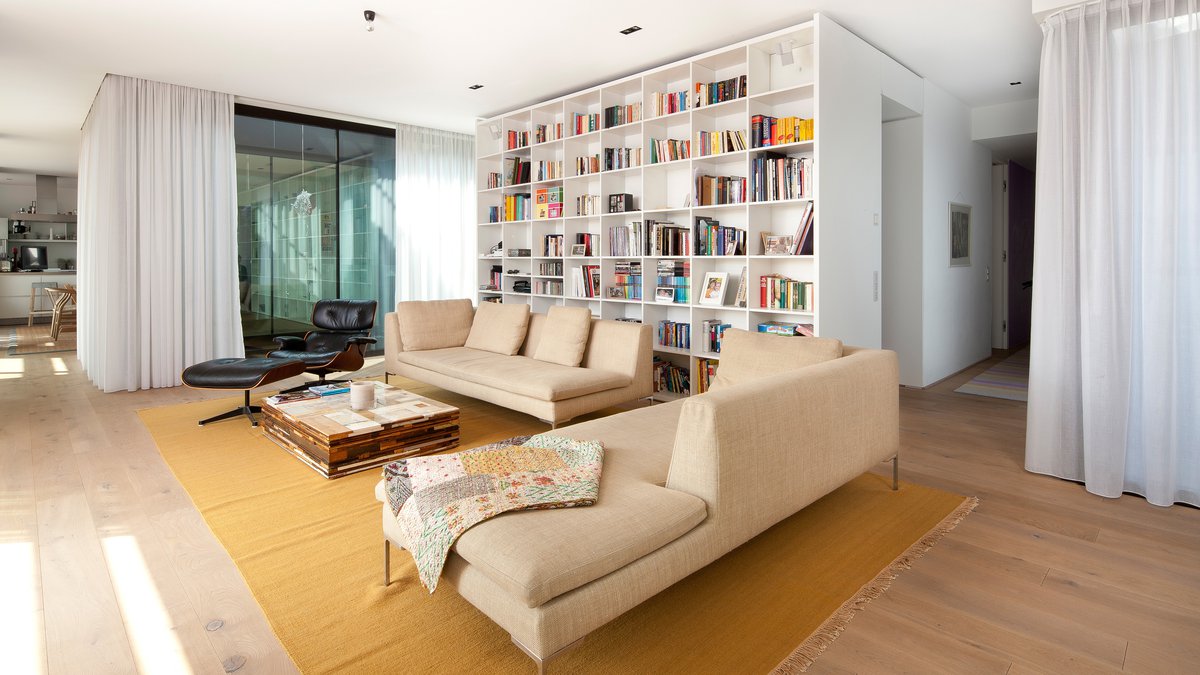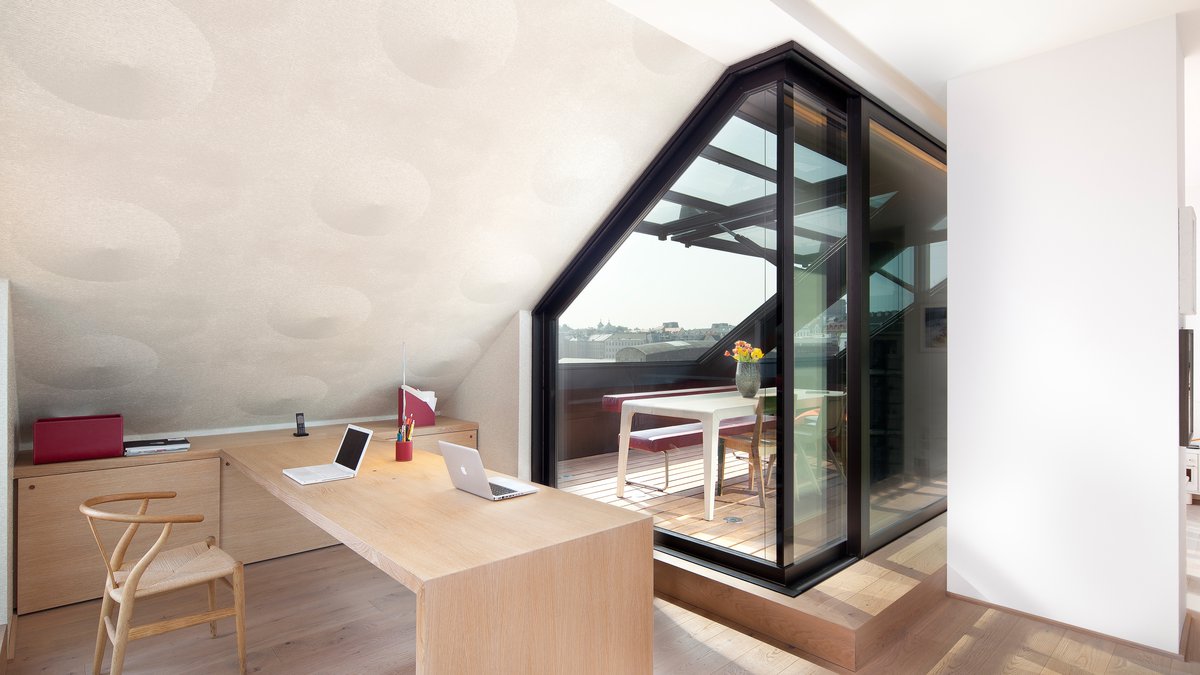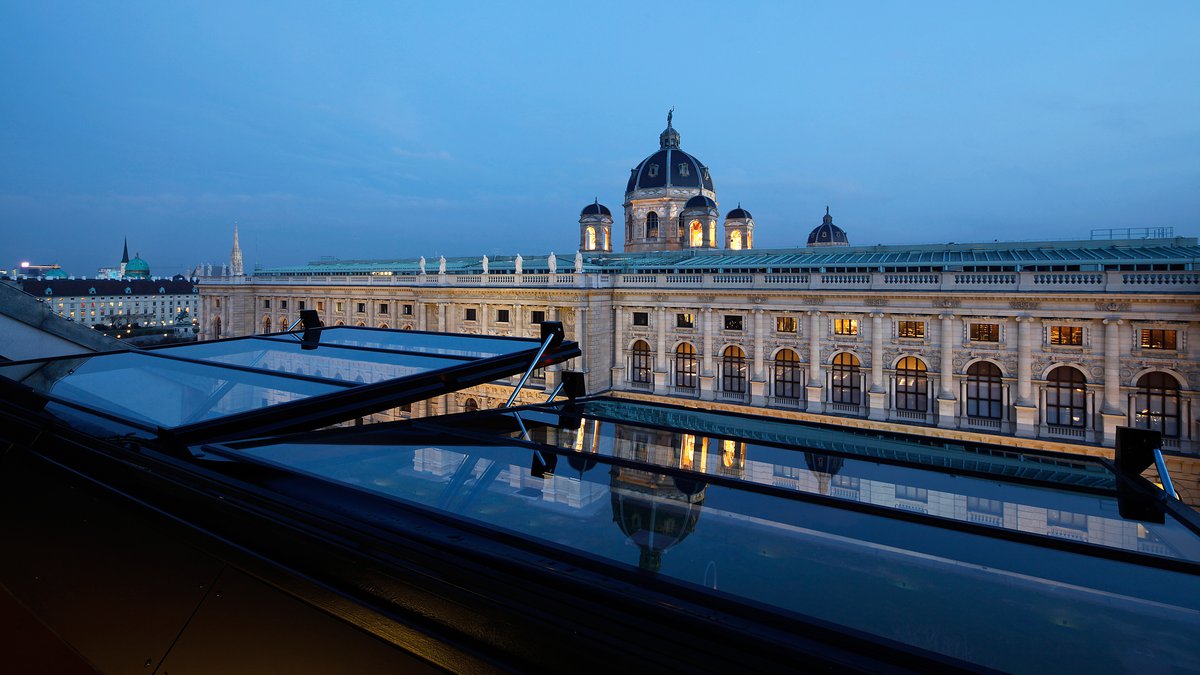 Luxury flats with high-quality interior and exterior spaces in heritage-protected architecture.
A loft in a centrally located residential building was converted to create three premium freehold and rental flats with outside spaces. The building is part of a historical ensemble between the famous Ringstrasse and the Natural History Museum. The flats all have a conservatory that affords a spectacular view of Vienna's historical centre. The large hinged windows, which can be tilted outwards to open fully, add extra space to the interior and create a connection to the outside without interfering too much with the roof landscape of the heritage-protected building.
Lighting and ceiling heights are the two main challenges when converting a loft. Sufficient natural light sources and spaciousness are, however, key components of a well-designed layout.
The original situation in the attic storey provided the ideal point of departure for the conversion: this 380m2 space in a Gründerzeit building located between the Burggarten park and the MuseumsQuartier has an impressive ceiling height of 3.5m as well as three light wells, one of which is centrally positioned. The loft is a prime example of the roof architecture of the Gründerzeit era by virtue of its dimensions and well-balanced proportions, and its clear structure and symmetry. These "strong" existing elements formed the basis of BWM's initial concept. They were "unearthed and enhanced", as project manager Ferdinand Bischofter puts it. The clever recesses and openings in the roof transform its closed structure to create a modern, bright and airy space within. The flats' symmetrical, H-shaped layout is particularly suited for residents wanting a clear separation of parents' and children's zones.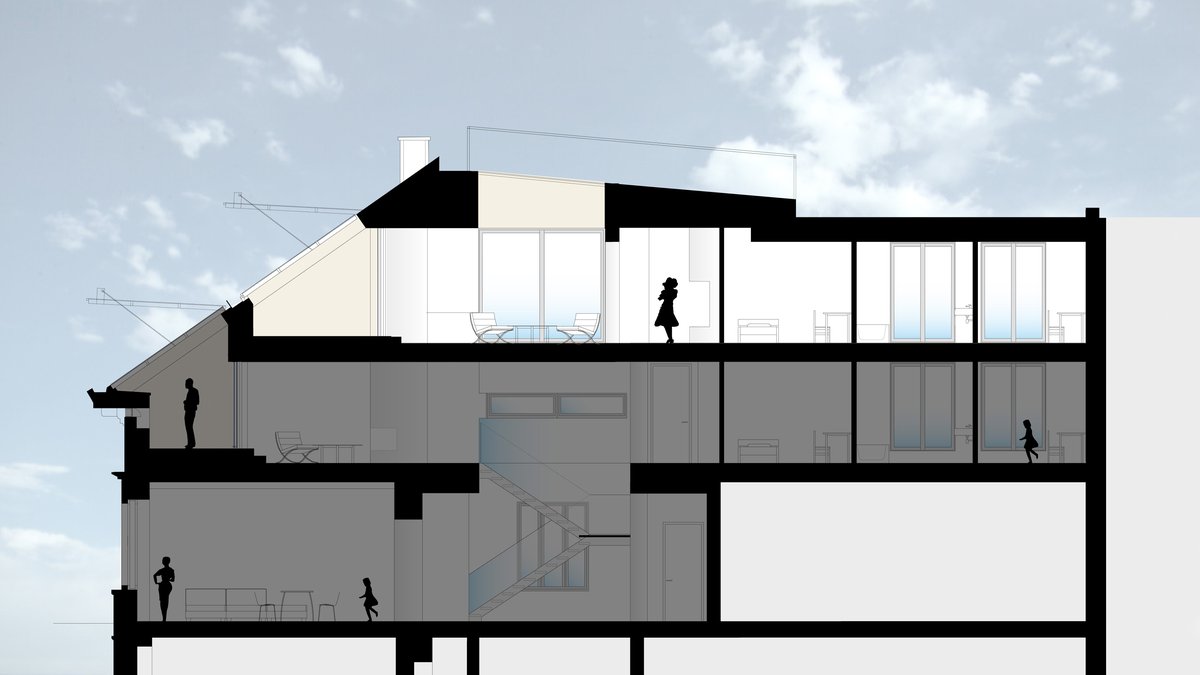 The Federal Monuments Authority's strict provision that no substantial alterations be made to the roof landscape ultimately had a stimulating effect on the design process and engendered an innovative solution for the window zone of the top two storeys. The unusually large, broad openings incorporated into the slanting roof are flush with its surface. The 3x6m windows were specially developed for this project in collaboration with MDE Metal Design Engineering GmbH and allow a great amount of natural light into the interior, as well as affording a stunning view of the nearby museums thanks to their inclination. The mechanical hydraulic system with which they operate allows them to be adjusted steplessly to any desired position. In this way, the tilted windows create open areas beneath that expand the living space all year round. In the winter months these terraces become conservatories. As architect Erich Bernard explains, "We aimed to achieve a strong interplay between inside and outside."
Overall, the loft space was converted into three premium freehold and rental flats across three floors that are partly joined by means of internal stairs.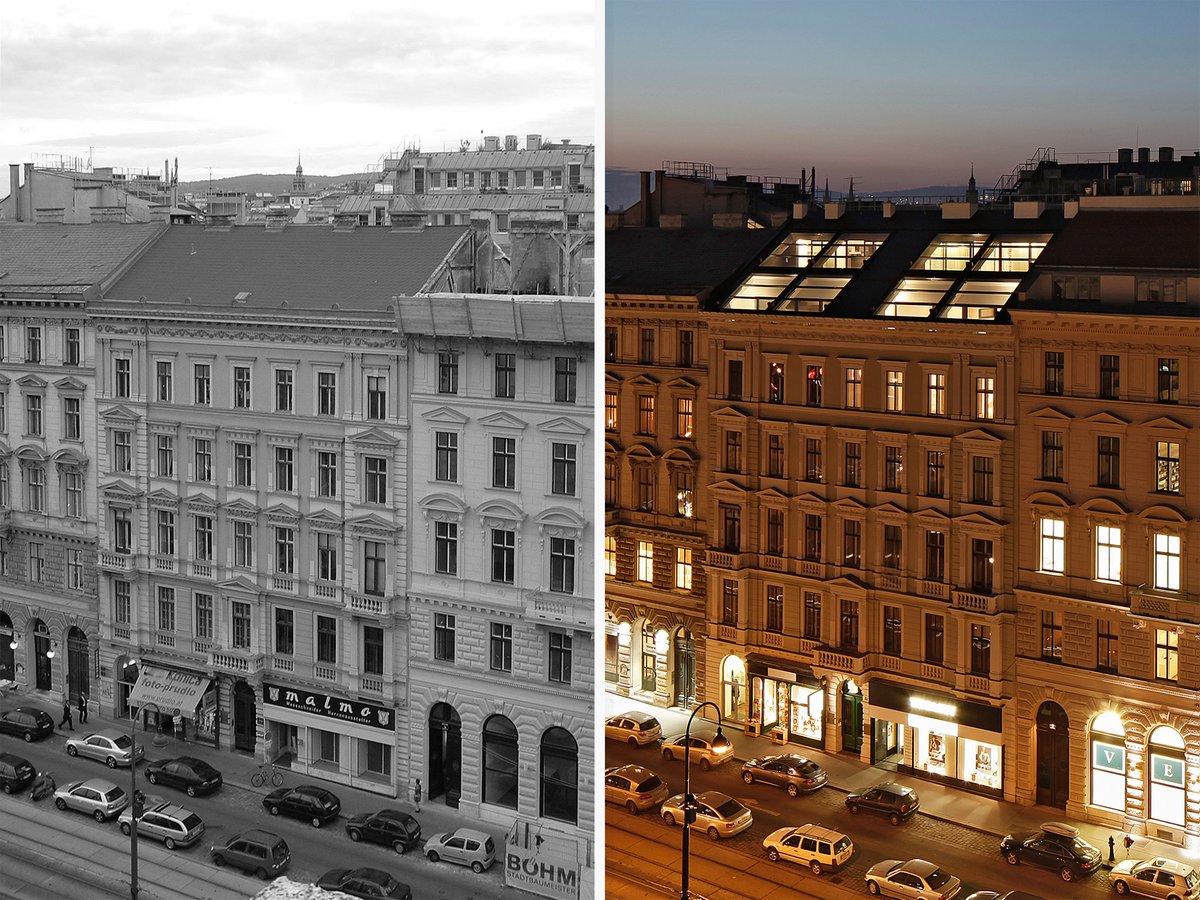 Task
Dachgeschoßausbau mit 3 Miet- und Eigentumswohnungen mit Freiräumen in einem unter Denkmalschutz gestellten Wohnhaus in Innenstadtlage
Status
Completion 12/2010
Location
Bellariastrasse, 1010 Vienna, Austria
Client
privat
BWM Team
Erich Bernard, Ferdinand Bischofter, Silke Schmitz, Elena Romagnoli
Image credit
Franz Ebner
BWM Architekten
Architecture
Arbeitsgemeinschaft BWM Architekten und Partner & Rollwagen Partner Architekten
Implementation planning, Side supervision
Rollwagen + Rollwagen
Window planning
MDE Metal Design Engineering GmbH
Building phyisics
RAAB-Engineering GmbH
Statics
DI Ernst Ringsmuth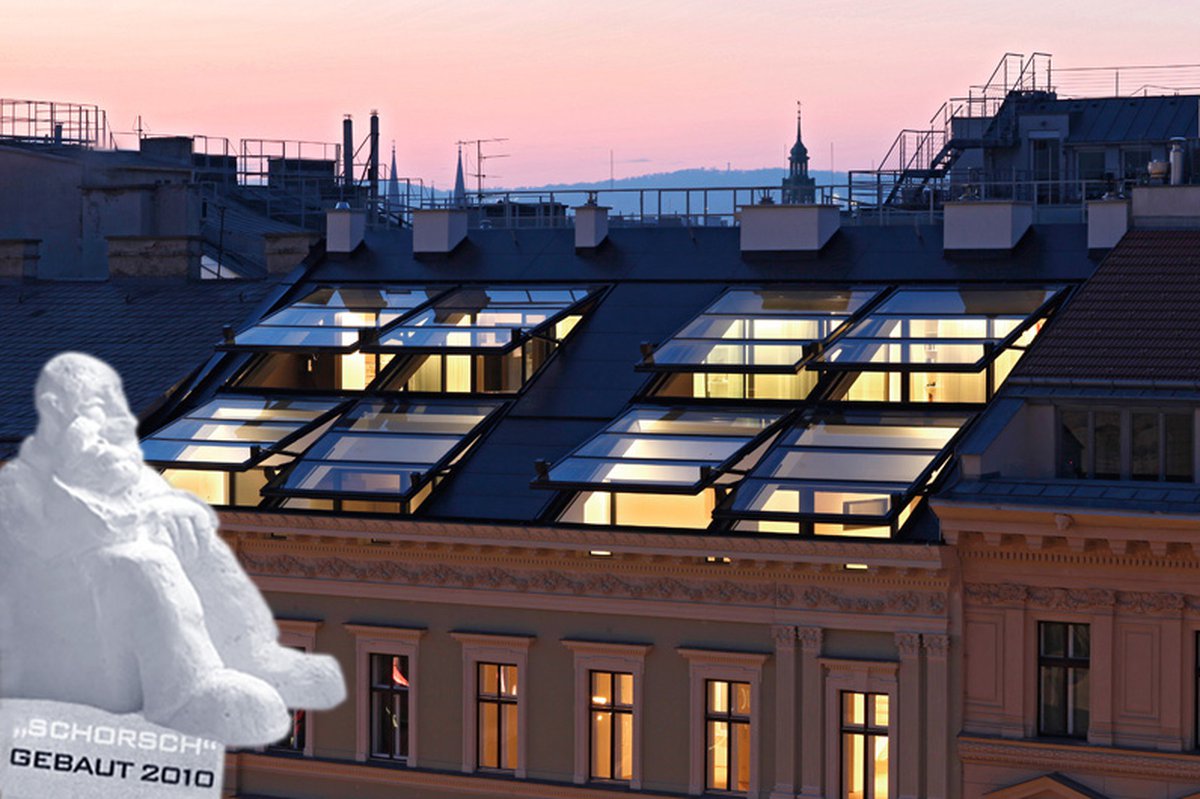 6 April 2011
Bellariastraße - a project of the working group BWM Architekten und Partner & Rollwagen Partner Architekten rewarded for exemplary building in the viennese city scape by the municipality of Vienna (MA 19).
25 June 2018
assets
Vogelperspektive
PDF
8 April 2014
Die Presse Luxury Estate
Ueber den Dingen
PDF
21 April 2012
Die Presse - Immobilien
Nachfrage in der Höhe, Angebot im Keller, Preise nicht am Plafond
PDF
10 October 2011
H.O.M.E.
Cabriolet auf Knopfdruck
24 September 2011
Kleine Zeitung
Bellariastraße
PDF
23 April 2011
Der Standard
Im Sommer sind's ein paar Quadratmeter mehr
PDF