Gablenzgasse 38 / Competition 1st place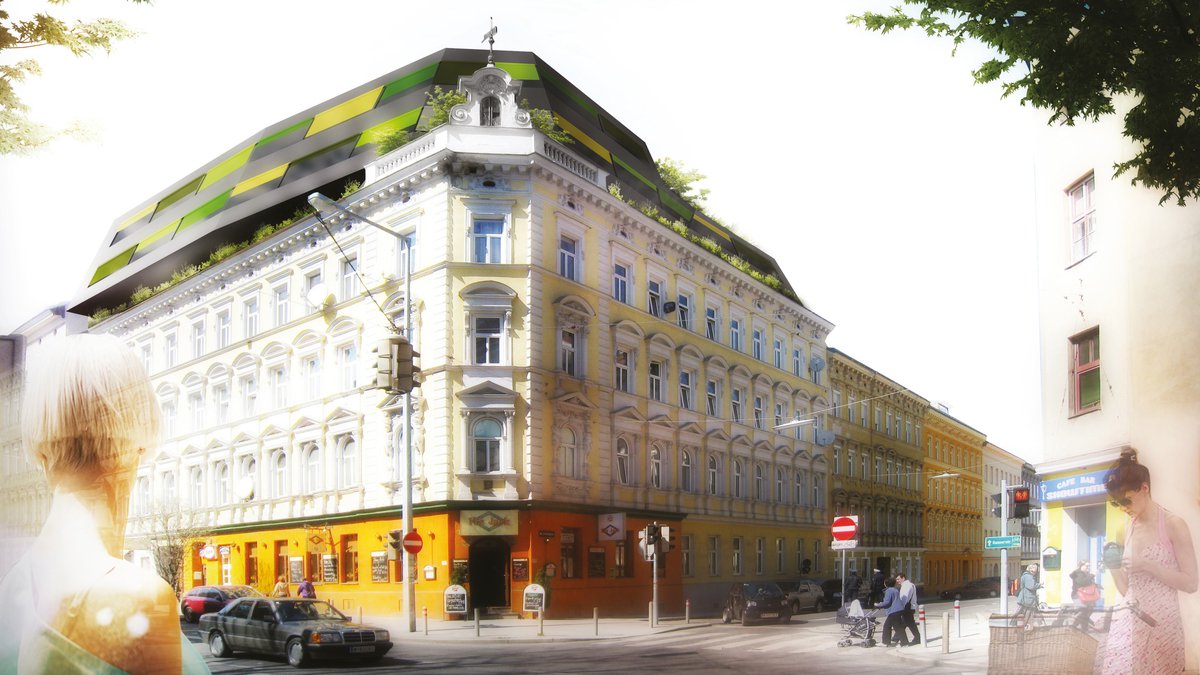 The aim of the competition was to gather possible solutions for a gentle form of urban renewal in a densely populated area, especially through the addition of storeys and loft conversions in Gründerzeit buildings. The land use and zoning plans of the area in question, namely Gablenzgasse in Vienna's 16th district, are to be reworked. The proposed changes are to take into account the projected population growth and offer solutions for additional housing. The competition sought to collect high-quality solutions in terms of urban planning and architecture that could serve as a model and be applied to other objects in a modified form.
The object is a four-storey residential building in an area with a dense arrangement of Gründerzeit buildings with rich façade articulation. A two-storey rooftop structure (steep-pitched roof) is placed on top of a heightening set back on the existing building. This design is well suited for use as a prototype. The space between the heightening and the rooftop structure defines the transition from the existing building to the new construction and allows for the creation of open spaces surrounding the structure. The details of the rooftop structure can be adapted in a variety of ways, enabling it to react to different objects and their adjacent buildings.
The façade remains unaffected, apart from the ground floor, which is opened up to create a connection with the green courtyard. Public and private open spaces (gardens, roof terraces, loggias, balconies) serve to offset the lack of green areas in this district. Various types of flats are planned for the top floors – single flats, flats for couples, and maisonettes as "rooftop single-family houses". Each unit has its own generous open spaces.
Task
Construction of a roof structure for residential purposes with associated terraces. It was preceded by a competition won by BWM to develop a prototype for dense building in urban areas with Wilhelminian style buildings.
Status
Competition 01/2014
Client
Ulreich Bauträger
BWM Team
Ferdinand Bischofter, Angela Aschauer, Massimiliano Marian