Waldrebengasse / Wettbewerb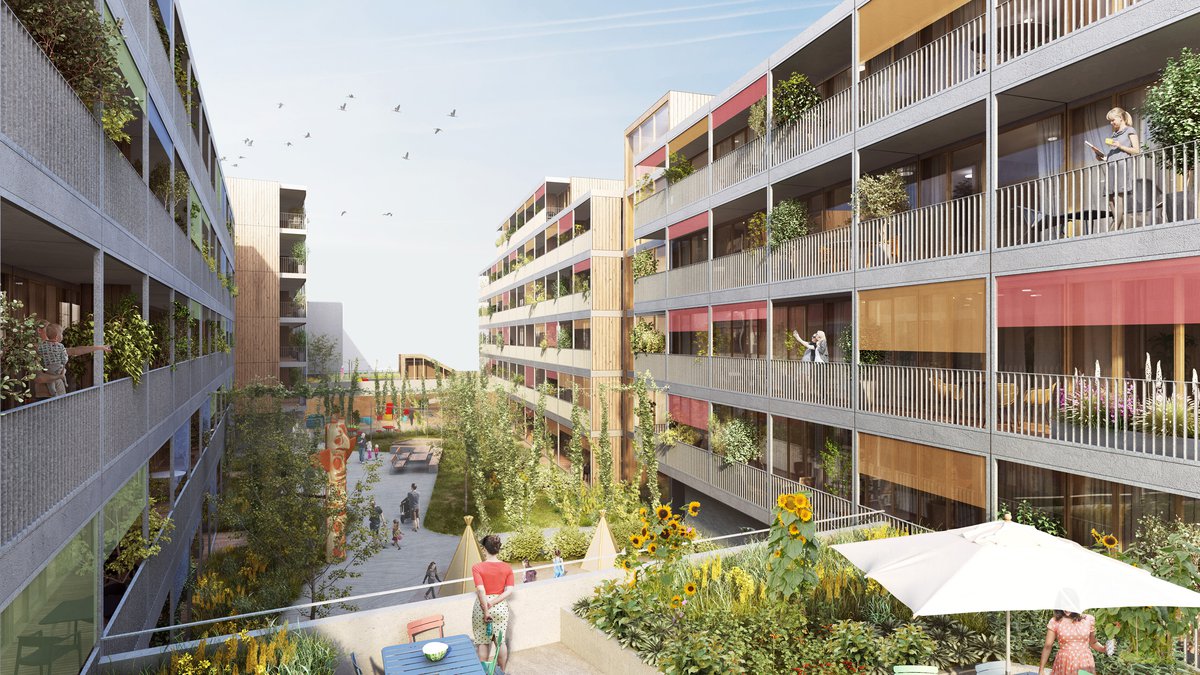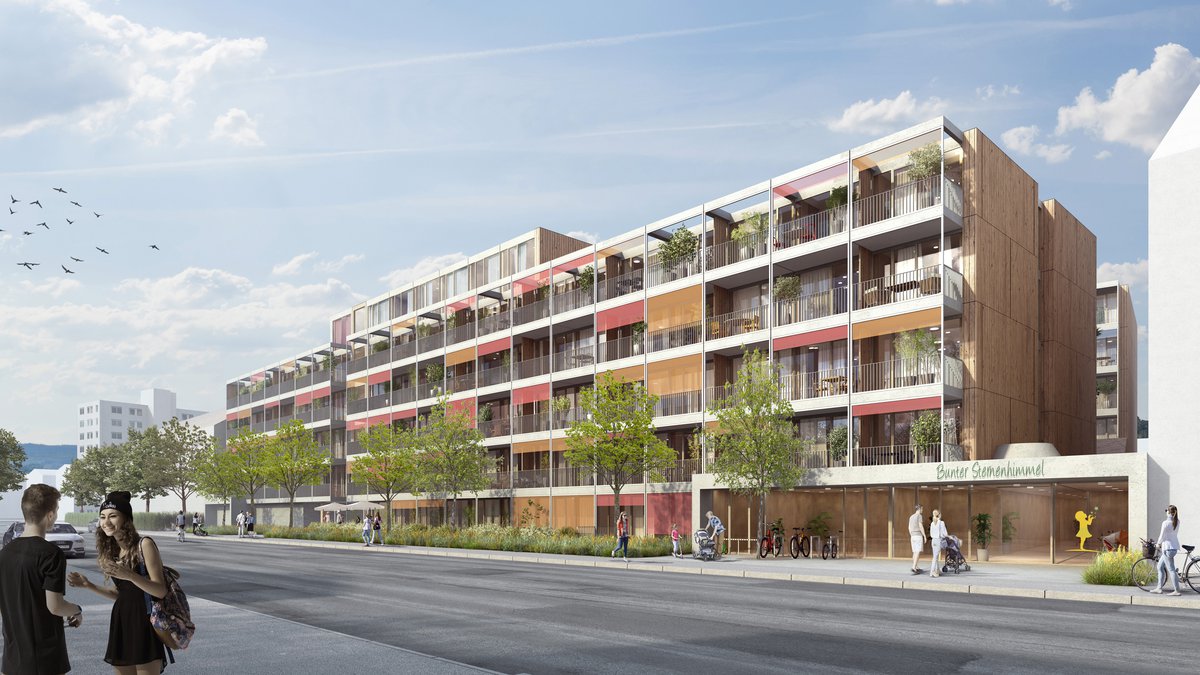 For the changing needs of single parents – affordable, sustainable and individual, thanks to the Matchbox modular system
The planning area's eclectic character is the unique thumbprint of the urban development. Instead of a perimeter development, four separate buildings with eccentrically arranged staircases structure the site. On the ground floor, inserted structures are designated for special uses such as a kindergarten or a communal kitchen. The upper floors are slightly set back from the site's boundaries, creating a continuous loop throughout the building. This loop gives children the freedom to roam the well-lit corridors – a convenient feature for the target group of single parents.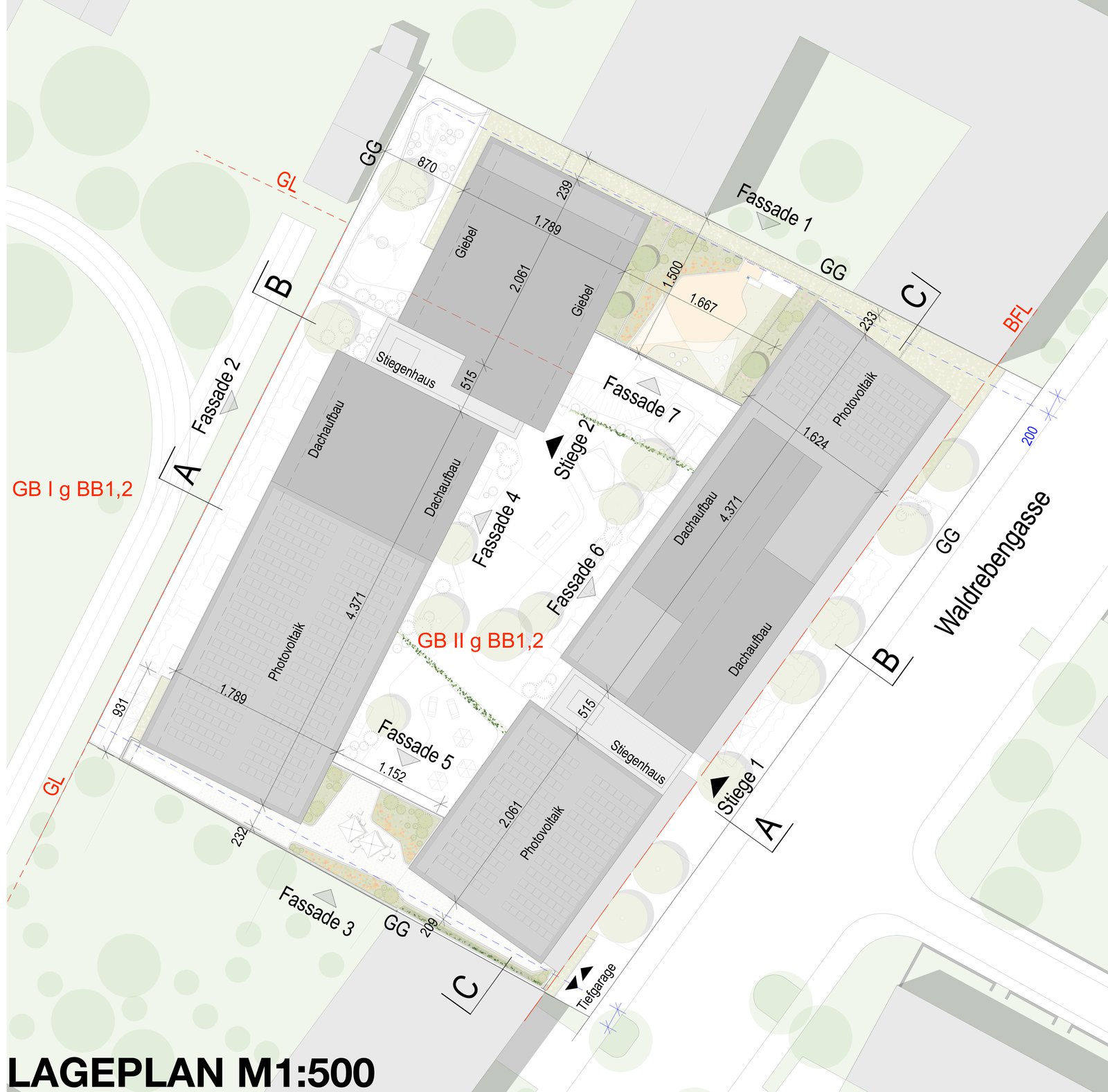 The additional spaces are tailored to the needs of small communities and range in size from small (a common room that can be used as a storage room for buggies, as a library, music room, etc., on each floor) to large (communal kitchen and children's play area on the ground floor, communal garden on the upper floor). A mobility point and corresponding app also facilitate communal living, making it possible to quickly and easily borrow and share everything within the community, from a carrier bicycle to a drill.
The Matchbox modular system is perfectly suited to the changing needs of single parents. The floor plans of the units, which range in size from 33m2 to 100m2 and are generally two- or three-room flats, make the best possible use of limited space with maximum flexibility.
In addition, the modular system created by BWM ensures a high quality of living, thanks to continuous glazing, a ceiling height of 2.6m and generous outside spaces along the entire length of each unit. The cost-effective serial construction method and the space-saving form of delivery and unadulterated use of materials make the Matchbox system both intelligent and practical.


The free space encircling the buildings culminates in the courtyard, which is divided into different sections by means of plant curtains; shrubs, perennials, hedges and climbing plants afford the ground-floor units a reasonable degree of privacy. Inspired by the partnership with the City of Vancouver and the forest theme, a number of maple trees adorn the courtyard, a totem pole in the visual axis creates a sense of identity and children can play in the tepees on the playground.
Task
Public property developer competition in Vienna-Donaustadt by wohnfonds wien in cooperation with the city of Vienna. A realization concept based on the 4-pillar model (economy, social sustainability, architecture and ecology) for the building site in 1220
Status
Competition 01/2020
Client
EGW Heimstätte Gesellschaft m.b.H.
BWM Team
Markus Kaplan, Gerhard Girsch, Clemens-Veit Hörl, Maximilian Fasslabend, Paul Gaunersdorfer
Fire protection planning & building physics
DI Erich Röhrer Bauphysik
HKLS
Ingenieurbüro Lothar Mayer GmbH
Landscape planner
Simma Zimmermann landscape architects OG
Statics
Wörle Sparowitz Ingenieure Ziviltechnier GmbH
Model construction
Mattweiss architecture model construction
Visualization
carpenter Kastler
Advice
Graf-Hochtechnik GmbH
26 February 2022
Die Presse
Die Box als Wohn- und Gestaltungselement
PDF